The annual auto show just wrapped in Chicago and the TC team was on site checking out the latest and greatest in technology and design trends.
I'll admit, I started the show this year sort of bummed knowing that my favorite manufacturer, BMW, wouldn't be there. But thanks to a jolt of caffeine from my iced latte and the enthusiastic attitudes of my colleagues, my spirits were lifted, and I was ready to dive in.
Erik and Jillian had joined me at the show in the past, but this was Blue's first trip with me. I was slightly worried my excessive car speak would freak him out but, fortunately, he's a car lover too and he joined right in! At one point, we actually had to pry him away from the Mazda exhibit where he was chatting up a rep and getting some exclusive swag.
As you might expect from a group of UXers, we had some thoughts about the show experience, in-car tech, and new features. Here are some of our main takeaways:
---
---
The trends from previous years persisted.
Similar to recent years, many manufacturers offered swanky lounges for attendees to retreat from the crowds and keep people in their booth and focused on their lineup.
---
---
Numerous manufacturers also offered participatory activities, hoping to create memorable brand experiences. A few we found interesting were Toyota and Honda's virtual driving experiences - Toyota gave attendees an opportunity to get behind the wheel of their 2020 Supra, while Honda showcased new tech features in their all-new Passport through an augmented reality experience.
---
---
The integration of infotainment screens is evolving.
When we jumped into the driver's seats to experience the vehicles, we encountered a basic challenge across many manufacturers – infotainment systems were powered off. While we understand the rationale, the group became increasingly disappointed as we walked from car to car trying to find an operable system to explore. After all, the infotainment systems are one of the top interactive components in the vehicle and have a huge influence on the car's overall experience. Preventing attendees from experimenting with these systems felt like a missed opportunity.
What we did take note of as trained Industrial Designers and car enthusiasts was the integration of the infotainment screen into the physical dash design. Manufacturers execution of this integration varied, from a floating tablet screen, to a full integrated screen, and now the "in-between screen."
---
---
Floating tablet screen: This trend started in the early 2010s. Back then, you may have seen it introduced in Mercedes-Benz and BMW models, and it has become common across most manufacturers over recent years. What we liked about some of the new models we saw was the integration of physical buttons on either side of a touch screen to help drivers' navigate the infotainment's functionality through tactile interactions.
---
---
Full integrated screen: Like Buick and Volkswagen, several manufacturers have stayed true to the fully integrated dash screen and some are bringing it back. For instance, the 2019 Audi A6 is reintroducing the fully integrated dash infotainment screen and repeating it in the Q8 as well. Our only hesitation with the Audi models is its sole reliance on touch screens; it has few physical buttons at all.
---
---
The "in-between" screen: Lastly, we noticed several manufacturers using a frame or bezel-like structure around their infotainment screens to make them appear more integrated into the dash design. Hyundai and Toyota, shown above, implement this style with eccentric shapes and a lot of extra plastic. Cadillac's version is more subtle, using premium materials to shape the screen bezel.
A tailgate that is a step above.
One feature that really caught our eye was GMC's new and noteworthy Sierra 1500 tailgate. It has several unique configurations, which provide fresh functionality and interaction with the cargo area.
---
---
The tailgate in its standard, secured state
---
---
The tailgate opened in its traditional format. At the top, there's a small panel running almost the full width of the tailgate that flips out and functions as a "load stop" for longer items (refer to last photo in this section).
---
---
The inner gate folded down, for hauling longer, second tier items. The "load stop" panel can open in this state as well, to make sure those second-tier items stay put. The inner gate can be also be used here as a work surface.
---
---
The main and inner gate folded down, for sliding large, heavy items into the truck bed.
---
---
The "load stop" folded down, forming a step for users to get inside the cargo area. It can also function as a bench in this state, for tailgating.
---
Overall, our team was impressed by the thoughtful functionality of this design and explored the configurations for some time. Well, until the GMC reps had enough of my shenanigans and started giving me the side-eye. To be honest, I'm pretty clumsy and I'm surprised that I didn't lose a finger.
We love a clean line.
Lastly, we wanted to call out a few examples of aesthetic design that we appreciated at the show:
---
The 2019 Mazda 3 was a top choice for exterior and interior styling. We loved how Mazda fused the door handle into the metal trim, making it appear seamless and providing a really clean aesthetic.
---
Although the changes are subtle on the 2019 Porsche 911, the rear taillights and logo integration are perfectly minimal. The logo seems to float effortlessly on the bumper.
---
We liked they way the new Toyota Avalon's center console is designed to integrate the infotainment screen. We loved the continuous line and motion that leads your eye up.
---
---
After a few hours I was ready for a second lap around the show, but the caffeine had worn off for the rest of the team.
---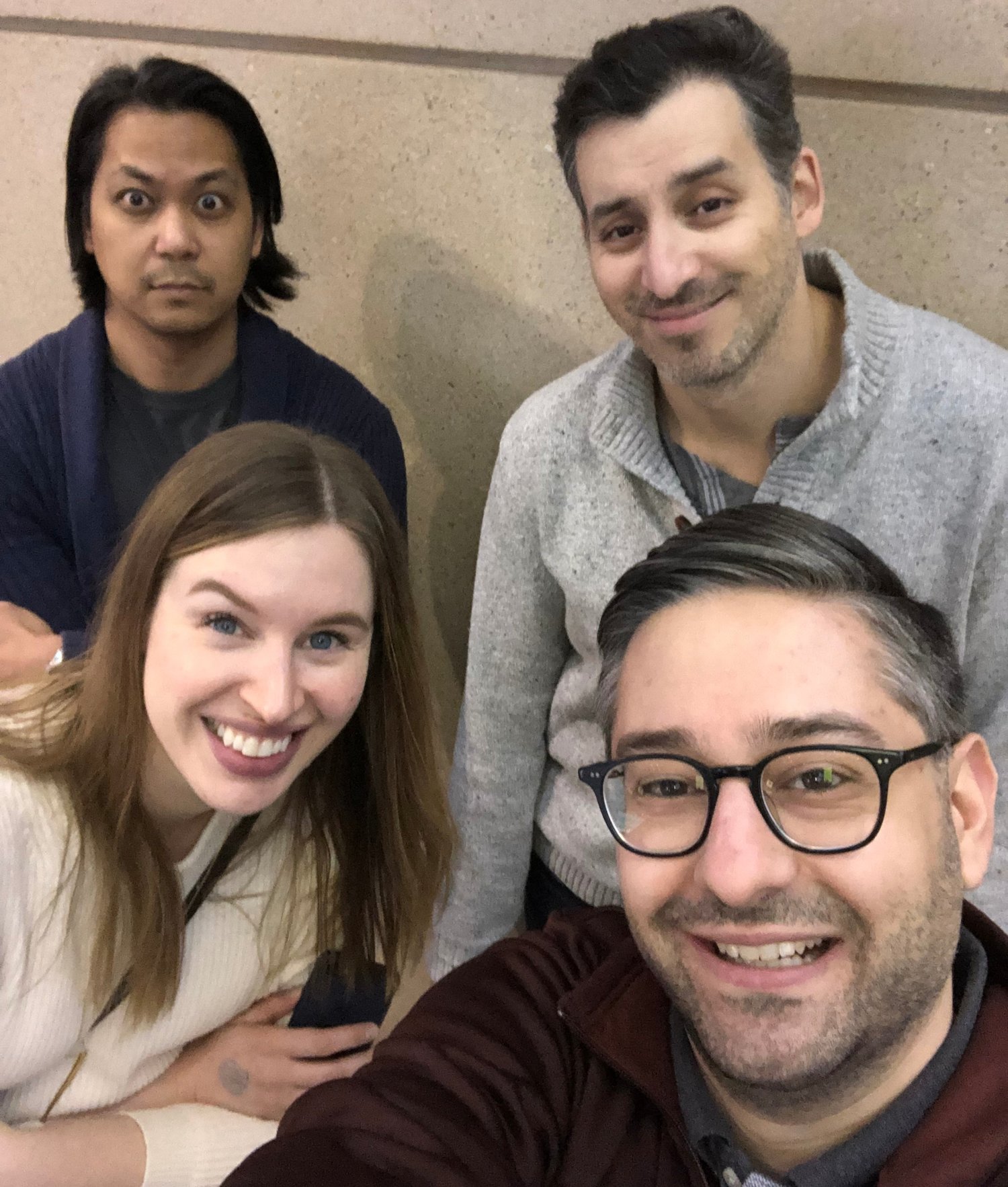 ---
Overall, we had a lot of fun at the show talking about the various new models, the auto industry at large, and what we aspired to drive someday. At future shows, we hope to see more concept cars and process displays, because we're eager to learn more about the design decisions being made and the production process. We look forward to next year and will report again!
---